Thermo Scientific Sterilin Dippas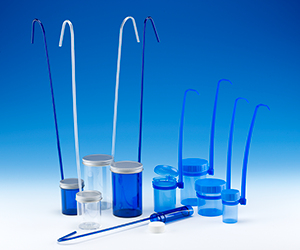 Principle: Sample collection
Automation: NO
Approvals: BS EN ISO14644
Suitability: Suitable for labs needing to take samples microbial analysis samples to the lab
Capital equipment required: NO
Description:
The biggest cause of errors in microbial analysis occurs in the sample collection stage. To reduce risks, ensure you are using the appropriate container to lock in sample integrity, and ensure your samples are fully representative of process conditions.
Representing quality and reliability, Thermo Scientific™ Sterilin™ Dippas™ containers offer an extensive range of sterile, DNA-free containers with easy labelling options.

Minimise the risk of contamination by using a single container to collect your sample and transport it to the lab in one easy-to-use, sterile, leak-free container.
Key Points:
Individually wrapped and sterilized by gamma irradiation
Leak-tested in accordance with BS EN 14254 Annexe D
Available in either clear or blue polystyrene
Handle neatly snaps off after sample collection for ease of transportation
Choice of handle length to accommodate the majority of sampling applications
Please note : Any products described on this page are for Research Use Only and not intended for clinical diagnostic procedures unless otherwise stated.
Areas:
Clinical

Cosmetic/Personal Care

Food & Beverage

Laboratory Equipment

Microbiome

Pharmaceutical

Veterinary

Water