Thermo Scientific Barnstead Smart2Pure Pro Water Purification System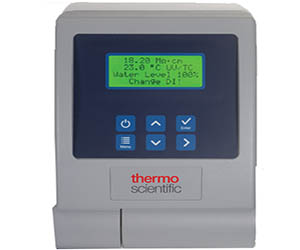 Principle: Water purification system
Automation: YES
Approvals: NA
Suitability: Labs needing Type 1 or Type 2 purified water to support microbiological analysis workflows
Capital equipment required: YES
Description:
To ensure the accuracy and reliability of your microbiological analysis, only water which has been freshly purified to the correct standard should be used.
Ensure your water is contaminant free with type 1 or type 2 water produced easily from the tap with the Thermo Scientific™ Barnstead™ Smart2Pure™ Pro Water Purification System.
Designed for simple operation and maintenance, Barnstead lab water systems eliminate slow and costly service contracts. Manufactured using the highest-grade materials and reliable technology, Barnstead systems incorporate more than 130 years of industry experience for dependability. Our flexible system configurations enable an excellent fit for labs of any size.
Key Points:
Ergonomic designs improve control and put advanced features at your fingertips
Feed water monitoring protects against crucial fluctuations that compromise purity
UV intensity monitoring reduces the risk of false TOC readings
Choose from compact systems with numerous mounting options and flexible dispensing features
Customize equipment to your preferred settings with tilting control panels and a selection of stand-alone models on wheels
Mix and match systems to achieve specific water purity and volumes as required by your unique application and water source
Order with one part number and receive a complete system
Quick-change cartridge designs offer easy maintenance
Our experts can select the right system for you with the Thermo Scientific™ H2O Select™ analysis program