SphereFlash®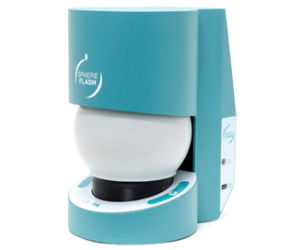 Principle: Colony counter
Automation: Yes
Approvals: CFR21 Part 11 (PRO Version)
Suitability: Pharmaceutical industries, medical and veterinary industries, food industries, cosmetic industries, microbiology laboratories, etc.
Capital equipment required: No
Description:
The SphereFlash® is an automatic colony counter that accurately counts, pour, and spiral plates on any media in two seconds. It performs the colony counting in a simple and reliable way thanks to its world-class LITE software and its patented built-in lighting system, which eliminates reflections.
For more demanding users the software can be upgraded to SphereFlash® Colonies Pro Software to increase its capabilities, or even obtain the optional SphereFlash® Halos PRO Software to measure inhibition halos.
This device avoids the traditional manual method for counting colonies which can be subjective, tedious, and time-consuming.
Key Points:
World-Class Software: Easy & intuitive yet powerful software. Even in it's LITE version, it will detect a wide range of colony types with minor or none user parametrization.
Counting of very small colonies: It's patented spheric chamber eliminates reflections in both, colonies and Petri plate, and provides uniform illumination for an improved image capture that will lead to better, more reliable, and consistent results.
Audit Trail: Security-relevant chronological set of records that will provide documentary evidence of the sequence of activities that have affected at any time a specific operation or event in the SphereFlash®.
Report generation: Easy and automatic generation of result reports, with customizable layout to include your Company's logo and/or information.
Optional software upgrades: Starting Colonies LITE software version (included in the unit) can be independently upgraded to Colonies PRO or Halos PRO.
High-throughput: A fast and powerful image processing software together with the automatic closing of the spheric chamber allows minor user interventions and time optimization. Large amounts of plates can be accurately counted.
Areas:
Food & Beverage

Pharmaceutical