SAS Super Isolator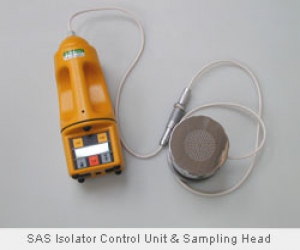 Manufacturer: Cherwell Laboratories Ltd
Principle: Air impaction onto agar plate
Automation: Remote operation possible
Suitability: Grade A pharmaceutical production environment
Capital equipment required: Yes
Description:
The SAS Super Isolator is for microbial monitoring bioburden of isolator cabinets and filling lines in pharmaceutical production.
Key Points:
stainless steel sampling head which is located permanently inside isolator cabinet.
sampling head is connected through the isolator cabinet out to the control unit, reducing the need for the sampler to be continually passed into the cabinets and minimising contamination risks
Individual heads can be supplied thus allowing one control unit to be used for multiple sampling heads.