Real-Time PCR System - Gentier96E/R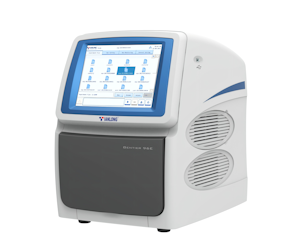 Principle: Real-Time RT-PCR technology
Automation: Yes
Approvals: CE, FDA
Suitability: DNA/ RNA amplification and detection
Capital equipment required: No
Description:
The Tianlong Gentier 96E/R Real-Time PCR System is designed to meet the experimental needs of high-end laboratories.
With the 6/4 fluorescence channels, Gentier 96E/R can process 96 samples in one run. With a powerful and efficient temperature control system, easy-to-use software, and user-friendly operational design, Tianlong Gentier 96E/R can provide maximum reliability and efficiency for all your real-time PCR needs.
We have other similar products as options:
Gentier48E/R - 48 well with 4/2 fluorescence channels
GentierMini - 16 well with 2 fluorescence channels
Genesy96T - conventional PCR thermal cycler
Please contact us for more information using the green "Request more information" button below.
Key Points:
96 samples to be scanned in 7s
Only 7s for all 96 wells of fluorescence scanning can significantly reduce testing time and improve efficiency for lab professionals.
Efficient temperature control
Based on the Peltier heating/cooling method, the maximum heating ramp rate is >6.1℃/s, and the maximum cooling ramp rate is >5.0oC/s.
Power failure protection design
Power failure protection design can recover the experiment automatically, with no more concern about instantaneous power failure.
More convenient with two configurations
Standalone configuration:10.4-inch touch screen
PC control configuration: PC software control via connection.
Powerful software analysis
Gentier96 E/R offers various data analysis functions, including absolute quantitative analysis, relative quantitative analysis, SNP analysis, melting curve analysis, etc.
Please note : Any products described on this page are for Research Use Only and not intended for clinical diagnostic procedures unless otherwise stated.