R-CARD® Total Count (SPC)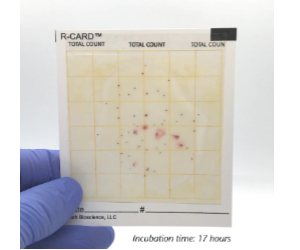 Principle: Self-contained and doesn't require petri dishes, agar, or other gear that's fragile and prone to leak.
Automation: No
Suitability: For detection of total microbe population
Capital equipment required: No
Description:
Unlike most Total Plate Count media on the market, R-CARD® rapid tests require almost no additional equipment and offer an extremely easy user experience. Simply lift the R-CARD® Total Count clear film and deposit 1 mL of your liquid sample on the card. Then release the clear film so it can fall back on top of the card, covering your sample. Within 1-3 minutes, the liquid sample will solidify between the two layers. This prevents it from dripping or leaking, making R-CARD® rapid tests incredibly easy to transport and use in the field.
Key Points:
Completely self-contained, requiring almost no additional equipment
Extremely accurate and easy-to-understand results
Fast results in 14-16 hours (incubated)
Free technical support on any step of the process
Colonies will show up as pale/dark red dots
Areas:
Food & Beverage

Pharmaceutical

Water