Nucleic Acid Extraction Rapid Kit (Magnetic Bead Method)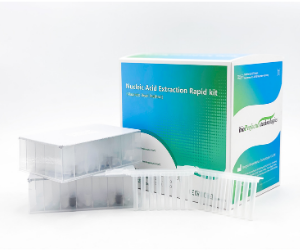 Nucleic Acid Extraction Rapid Kit - Magnetic Bead Method
Principle: Magnetic Bead Extraction
Automation: Yes
Approvals: NMPA, CE, FDA Listed
Capital equipment required: Nucleic Acid Extraction Instrument SSNP-2000B, SSNP-3000A, SSNP-9600A produced by Bioperfectus
Description:
This kit uses magnetic beads and a buffer system with a unique separation function and is used in conjunction with a nucleic acid extractor to separate and purify high-quality viral nucleic acids from samples. The specially coated magnetic beads have a strong affinity for the nucleic acid in the sample under certain conditions. When the conditions change, the magnetic beads release the adsorbed nucleic acid so that the nucleic acid in the purified sample can be quickly extracted.
Suitability: This kit is used for the extraction and purification of viral nucleic acids (DNA and RNA) from samples such as serum, plasma, virus culture fluid, cerebrospinal fluid, urine, swab wash, fecal supernatant, etc. The purified nucleic acid can be used in downstream molecular biology experiment.
Key Points:
Time per run: 15 minutes
Sample Volume: 200μL
Analytes: DNA/RNA
Recovery: ≥90%
Elution volume: 70μL
Technology: Magnetic bead technology
Processing: Cooperate with the instrument
Storage and transportation temperature: Room temperature
Please note : Any products described on this page are for Research Use Only and not intended for clinical diagnostic procedures unless otherwise stated.
Areas:
Clinical

Laboratory Equipment