MICA Pseudomonas - Pseudomonas aeruginosa detection in water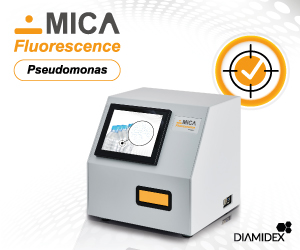 Principle: Based on bacterial fluorescence detection technology, MICA Pseudomonas allows the enumeration of Pseudomonas aeruginosa in 24 hours. NF EN ISO 16266 culture on CN agar protocol.Tested with 10 different Pseudomonas aeruginosa strains (including ATCC 10145, CIP 100720T and 5 environmental strains). No cross-reaction with Pseudomonas fluorescens (ATCC 13525), Pseudomonas luteola (ATCC 43273), Pseudomonas oleoverans (ATCC 8062), Pseudomonas putida (ATCC 49128), Pseudomonas stutzeri (ATCC 17588).
Automation: YES
Approvals: Ongoing certification, contact Diamidex for more information
Suitability: Detection and enumeration of Pseudomonas aeruginosa in water, bottled water, potable water, process water and water networks
Capital equipment required: YES
Description:
Fast detection & Automated CFU Counter for Pseudomonas aeruginosa in water samples.
Test bottled water, drinkable water and water networks with 99% correlation with the ISO 16266 standard.
Get results in 24 hours vs 2-7 days in order to prevent bacterial contamination.
MICA is your best partner for fast microbiological Quality Control in your facility.
Key Points:
Easy to use:
No change in use, same workflow as ISO 16266 standard method but with less steps
No confirmation test required
Fast:
Faster time to result (24h with MICA vs 2-7 days with standard method)
Much less human time (up to 40 min./sample with standard method for a positive sample due to confirmations, 7 min./sample with MICA)
Secure:
Culture-based method
Human error limitation (automated reading)
99% correlation between MICA Pseudomonas & ISO 16266 method
Cost efficient:
Large savings on analyses
Better reactivity due to faster result
The same MICA counter can be used to perform other analyses (Legionella pneumophila, Alicyclobacillus)