MIC Test Strip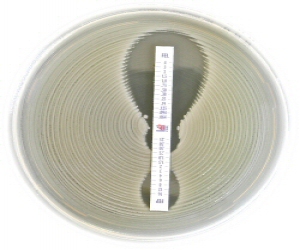 Manufacturer: Liofilchem
Principle: Quantitative Minimum Inhibitory Concentration determination
Automation: No
Suitability: Clinical diagnostics, antimicrobial resistance research centres
Capital equipment required: No
Description:
MIC Test Strip is a quantitative assay for determining the Minimum Inhibitory Concentration (M.I.C.) of antimicrobial agents against microorganisms and for detecting resistance mechanisms. MIC Test Strip are patented porous strips with special features that are impregnated with a predefined concentration gradient of antibiotic, across 15 two-fold dilutions of a conventional M.I.C. method.
Key Points:
MIC Test Strip are available in a large variety of configurations, including 100 antibiotics, 3 antimycobacterials, 11 antifungals, 2 AmpC, 3 ESBL, 3 MBL, 1 GRD, 2 KPC strip types.
Each configuration is available in packages of 10, 30 (individually packed) and 100 tests (packed by 10).
MIC Test Strip can be crossed with MTS Synergy Application System (Ref. 96860) for the in-vitro evaluation of antibiotic combinations.
Please note : Any products described on this page are for Research Use Only and not intended for clinical diagnostic procedures unless otherwise stated.