Limulus Color KY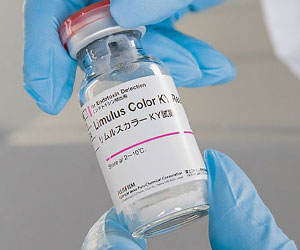 Principle: Quantitative kinetic chromogenic assay to detect endotoxin with high sensitivity
Automation: No
Suitability: Very turbid samples or those that are difficult to quantify by KTA
Capital equipment required: No
Description:
The Limulus Color KY Series are quantitative kinetic chromogenic assays (KCA) that are endotoxin-specific and unreactive to (1,3)-ß-D-glucan. This series includes both a multi-test kit and a single-test kit, which utilize a synthetic substrate that produces a yellow color to detect endotoxin with high sensitivity. All reagent kits are matched with a Control Standard Endotoxin (CSE). These reagents work well with samples that are very turbid or show difficulty in quantification by the kinetic turbidimetric assay (KTA).
Limulus Color KY single-test vials come with pre-dispensed LAL reagent for a single measurement. This single test vial is ideal for a user testing a smaller number of samples or one who is less experienced.
The multi-test vial is designed to be used with the Toxinometer® or a microplate reader and is ideal for a user with a larger number of samples that are turbid.
Key Points:
Single test
Reduces the chance of contamination and no wasted reagent during testing
KCA quantitative range detection limit of 0.0002 to 5 EU/mL
Reagent reacts with endotoxin over a wide range of concentrations
High sensitivity to reduce the chance of interfering factors
Can be used with the Toxinometer®
Company contact details:
FUJIFILM Wako Chemicals U.S.A. Corporation
view full details
North Chesterfield
VA
United States
Website:
Visit Website
Tel: +1 804-714-1926