GMO Testing Kits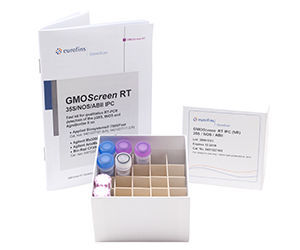 Principle: Simplex or Multiplex, conventional or Real-time PCR
Automation: Yes
Suitability: Low to high throughput detection and quantification of GMO in food, feed and seed
Capital equipment required: Standard equipment
Description:
Genetically modified organisms (GMOs) are grown on an increasingly large scale. The varying worldwide approval and labelling situations create challenges for GMO testing laboratories. This makes having a reliable and experienced partner in GMO testing essential. Our GMO testing kits allow for the identification or exclusion of single GMO events and can be applied to a wide variety of processed and unprocessed food and feed products. Eurofins GeneScan Technologies' kits can be applied to answer questions such as…
Does the sample contain GMOs or GM material?
Which GMO events are present and are these events approved in the country of destination?
What is the proportion of the GMO in the sample and does the sample have to be labelled?
Is there a technically unavoidable presence of GMO due to cross-contamination or a botanical impurity?
All these questions and more can be answered with the help of our comprehensive GMO kits portfolio.
Key Points:
| | | |
| --- | --- | --- |
| GMOScreen | GMOIdent | GMOQuant |
| Screening kits covering all relevant commercialized GMOs | Event-specific kits for the identification of single GMO events | Quantitative event-specific kits based on official EURL methods |
| Enhanced efficiency through multiplex screening kits | Modification-specific kits answer different questions in one step | Multiplex kits and quantification of screening targets reduce costs and save time |
| New targets for advanced screening approaches | Exclusion of non-approved GMOs | Quantification in relation to species-specific reference |
| GMO screening table for fast and reliable interpretation of results | Kits for the detection of GMO plants and animals | |
Kit Portfolio
The GMO testing kit portfolio contains a large range of screening, identification and quantification kits for a number of genetically modified organisms. For more information please refer to our product list or contact us at kits@eurofins.com.