Fapon Biotech RT-PCR Test Solution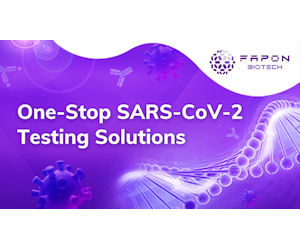 Suitability: Simplify collection, transport, storage and detection of SARS-CoV-2.
Description:
Provides the comprehensive reagents, components, materials required to simplify the collection, transport, storage, and detection of SARS-CoV-2. The solution allows biospecimens to be taken from the collection sites and transported to the hospitals and reference labs where viral RNA is extracted and detected by RT-PCR assays.
Key Points:
Provide comprehensive solutions including platforms, test components, and raw materials required to simplify virus collection, extraction, and detection.
Lyophilized test components and raw materials for easy transportation and storage
Easy to use, high sensitivity, and low contamination risk
Support developing countries to quickly achieve industry localization
Please note : Any products described on this page are for Research Use Only and not intended for clinical diagnostic procedures unless otherwise stated.