10th December 2021 Content supplied by: Fapon Biotech Inc.
Fapon Biotech Races to Introduce Omicron Neutralizing Antibodies Titer Testing Solution
Omicron cases have been rapidly spread to over 50 countries. Given its potential higher rate of transmissibility, Fapon Biotech has mobilized resources to accelerate evaluation on the immune evasiveness and vaccine effectiveness on Omicron variant, therefore successfully introduced SARS-CoV-2 Omicron Variant Neutralizing Antibody Titer Testing Solution (ELISA) to effectively screen the immune system evaluation of vaccines.

Newly published research from Africa Health Research Institute finds that the level of antibody neutralization activity against Omicron, in those vaccinated with the Pfizer-BioNTech vaccine, showed a 41-fold decline when compared with wild-type virus.
On Dec 7, Fapon Biotech has also used its newly developed neutralizing antibody titer testing solution to conduct an assessment on vaccine samples against Omicron and resulted in a similar conclusion to the previous research from South Africa.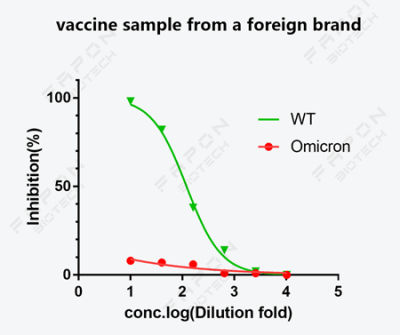 The experiment result showed that the neutralizing antibody titer in those with 2 doses of vaccine decreased by more than 30-fold when compared with wild-type virus, using Fapon's Neutralizing Antibody Titer Testing solution against Omicron.
Nowadays, many pharmaceutical and vaccine companies are faced with an urgent need to develop Omicron-specific products. Fapon Biotech is pleased to preferentially offer free neutralizing antibody titer testing services to these enterprises, boosting the R&D on COVID-19 vaccines and antibody therapies.

More Omicron-specific products are under development to fulfill worldwide supply within weeks supporting global scientific research and industrial production.
Product Forecast:
Omicron Variant Neutralizing Antibody Titer Testing Solution (CLIA)
POCT Testing Solution for Omicron Variant Identification
PCR Testing Solution for Omicron Variant Identification
For more information about Fapon Biotech
click here
or to enquire about the products please use the green "Request Information" button below
Tags:
Date Published: 10th December 2021
Source article link: View