Fapon Biotech Neutralizing Antibody Test Solution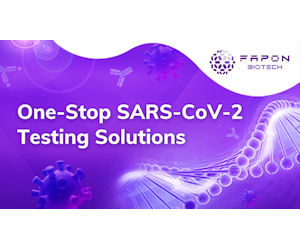 Suitability: Antibody-drug studies, vaccine potency assays
Description:
Neutralizing antibodies (NAbs) have significant preventive and therapeutic effects. They mainly target the RBD region and can block the binding site of COVID-19 to the ACE2 receptor. COVID-19 NAbs are a low contamination risk and highly specific, which play a crucial role in the research of COVID-19 treatments. Meanwhile, they can measure the titer level of the immune response after vaccination, being an essential tool of vaccine effectiveness evaluation.
After several verifications, Fapon NAb test raw materials have good qualities in affinity, sensitivity, specificity, and correlation to sVNT (Surrogate Virus Neutralization Test), which can be applied in antibody-drug studies, vaccine potency assays, and more.
Key Points:
Innovative patented methodology for both neutralizing antibody and total antibody detection.
Validated on ELISA, CLIA, Rapid Test, and Turbilatex platforms
Excellent sensitivity & specificity.
High correlation to gold standard PRNT & FDA EUA neutralizing antibody test kit.
Please note : Any products described on this page are for Research Use Only and not intended for clinical diagnostic procedures unless otherwise stated.