Fapon Biotech Antigen Test Solution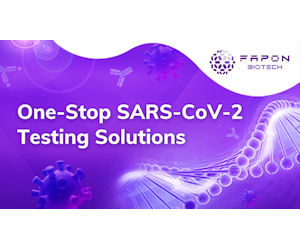 Suitability: For assay development and manufacturing
Capital equipment required: No
Description:
The nucleocapsid (N) is a major structural protein of SARS-CoV-2. It is highly conservative, providing an ideal marker for immunodiagnosis. Fapon self-developed monoclonal antibodies have high sensitivity, specificity, and batch-to-batch consistency, with no cross-reactivity with other pathogens (human coronaviruses, flu, pneumonia, etc.). Different application scenarios are supported with stable bulk commercial volume. The featured solution provides custom reagent development and bulk reagent component services, adding high values to diagnostic kit development.
Key Points:
Validation completed in colloidal gold, immunofluorescence, ELISA, CLIA, and CMIA platforms
High activity, low detection limit
No cross-reaction with respiratory tract positive samples
Effective in testing the mainstream variants, Delta, Alpha, and others
Please note : Any products described on this page are for Research Use Only and not intended for clinical diagnostic procedures unless otherwise stated.