ES Buffer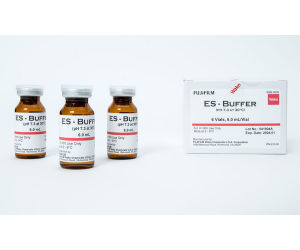 Principle: Endotoxin specific buffer
Automation: No
Suitability: Endotoxin Testing
Capital equipment required: No
Description:
The ES Buffer is an endotoxin-specific buffer that is ideal for untreated LAL. Though all LAL reagents produced by FUJIFILM Wako are endotoxin-specific, other commercially available LAL reagents are not. Without this buffer, tests can activate (1,3)-ß-D-glucan when trying to determine the endotoxin concentration in the sample.
Key Points:
Each vial has solution for use in reconstituting a maximum of 5.2 mL of reagent
Ideal for LAL that has the potential to react with glucans, thus making an endotoxin specific reagent
To find out more use the green "request more information" button below.
Company contact details:
FUJIFILM Wako Chemicals U.S.A. Corporation
view full details
North Chesterfield
VA
United States
Website:
Visit Website
Tel: +1 804-714-1926