Enterolert®-DW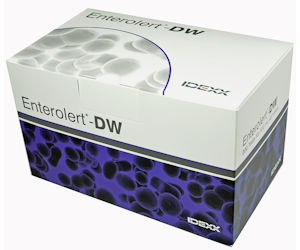 Enterolert®-DW
Principle: Uses a Defined Substrate Technology (DST) nutrient indicator
Automation: No
Approvals: AFNOR NF Validation (IDX 33/03-10/13)
Suitability: Enumeration of intestinal Enterococci bacteria in drinking waters for human consumption
Capital equipment required: Yes
Description:
Enterolert-DW is a liquid culture method that detects the presence of enterococci in drinking water, providing confirmed results within 24 hours.
Principle: The Enterolert®-DW Test uses a Defined Substrate Technology (DST) nutrient indicator to detect enterococci. When coupled with the IDEXX Quanti-Tray® System, the Enterolert-DW Test provides quantitative confirmed results in 24 hours. The Enterolert-DW Test utilises ortho-nitrophenyl-β-D-glucoside as a nutrient indicator and incorporates a specifically designed blue background colour in its formulation. When the enzyme-substrate is metabolised by enterococci, the sample turns from blue to green to indicate detection. Any change from the original colour to green is considered a positive result. No ultraviolet light source is required.
Approvals: AFNOR NF Validation (IDX 33/03-10/13) – Enterolert-DW/Quanti-Tray is validated for the enumeration of intestinal enterococci bacteria in drinking waters for human consumption.
SCA Blue Book: Enterolert-DW is specified in the Methods for the Examination of Waters and Associated Materials (Blue Book) complied by the UK Standing Committee of Analysts. Ref: Microbiology of Drinking Water (MoDW) Part 5: Methods for the isolation and enumeration of enterococci (2012) – Enterolert-DW (Method B).
A more exhaustive list of approvals is available on request
Key Points:
Accurate
More accurate when compared to ISO 7899-2 on all samples.
More accurate when compared to Microbiology of Drinking Water (MoDW) part 5 methods, on chlorine-stressed samples.
Liquid enrichment ensures optimised recovery.
Eliminates subjective interpretation of results determined by traditional methods.
Fast
Confirmed results in 24 hours.
Simplified quality control.
Less than 1 minute of hands-on sample preparation time.
Easy-to-use
Ready-to-use media.
Simple procedure.
Provides Most Probable Number (MPN) enumeration.
Unit-dosed packaging eliminates media preparation.
Reagent contains no toxic compounds.