Eddy Jet 2W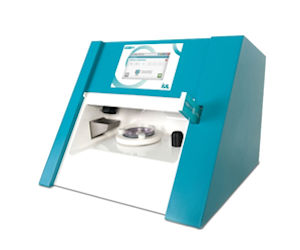 Principle: Spiral Plater
Automation: Yes
Approvals: ISO 7218 / AOAC 977.27 / FDA (BAM Ch.3)
Suitability: Although Eddy Jet 2W is mostly used by food, cosmetic and pharmaceutical labs, any microbiology lab can largely benefit from its use.
Capital equipment required: No
Description:
Eddy Jet 2W is a spiral plater that performs, in a reliable and accurate way, different types of spiral and lawn inoculations reducing cost per test, hand on time, and consumable use during bacterial enumeration.
Its patented disposable microsyringes confer a unique, cross-contamination free technology, system, making Eddy Jet 2W a bestseller.
This instrument will generate a threefold dilution concentration gradient in a single plate, allowing labs to skip serial dilutions and most plating. The spiral plater rotates an agar plate while pour decreasing amounts of liquid sample onto its surface describing an Archimedean spiral. After incubating the plates, colonies appear distributed along the spiral's track with a radial decrease in concentration. Despite the process's complexity, Eddy Jet 2W is a very user-friendly device with self-explicatory icons to guide the user.
Key Points:
Sterility: An exclusive patented microsyringe technology allows for genuine sampling sterility.
Time-saving: A full cycle in just 30 seconds.
Detection range: Between 2x102 and 4x105.
Petri plate diameters: 90 and 150 mm.
Simplicity: Get trained in less than 5 minutes: insert a Petri plate, press on the "play button" in Eddy Jet 2W's innovative color touch screen, and that's it, PLUG&PLATE!
Fully validated: Spiral plating is a fully validated Microbiological method, see: ISO 7218/ AOAC 977.27/ FDA (BAM Ch.3).
Advantageous Mechanics: Eddy Jet's dependable Stepper Microcontroller motors regulate the instrument's high precision microsyringe liquid dispensing.
Connectivity: Eddy Jet 2W features cutting edge connectivity; it can be connected to a barcode reader and a printer in order to provide plate traceability. It's USB and Ethernet connections allow for connection of a keyboard for data insertion or a pendrive for upgrades.
Dimensions (WxHxD): 51.5x42x50 cm/20.3x16.5x19.7 in.
Areas:
Food & Beverage

Laboratory Equipment

Pharmaceutical