Colilert-18®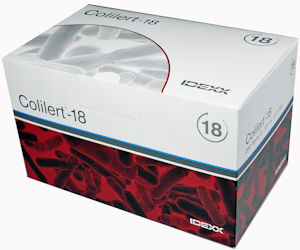 Colilert-18®
Principle: Uses proprietary Defined Substrate Technology (DST) nutrient indicators - ONPG and MUG
Automation: No
Approvals: U.S. EPA Approval; ISO 9308-2:2012
Suitability: Detction of both total coliforms and Escherichia coli in water
Capital equipment required: Yes
Description:
Colilert-18 is a liquid culture method that simultaneously detects both total coliforms and Escherichia coli in water, giving confirmed results in 18 hours.
Principle: The Colilert-18 test uses proprietary Defined Substrate Technology (DST) nutrient indicators ONPG and MUG to detect coliforms and E. coli. Coliforms use their β-galactosidase enzyme to metabolise ONPG and change it from colourless to yellow. E. coli use β-glucuronidase to metabolise MUG and create fluorescence. Since most non-coliforms do not have these enzymes, they are unable to grow and interfere. The few non-coliforms that do have these enzymes are selectively suppressed by the Colilert-18 test's specifically formulated matrix.
Approvals: U.S. EPA Approval: Colilert-18/Quanti-Tray has US EPA Approval for detection of coliforms and E.coli in Drinking Water, Surface Water Ground Water and Waste Water.
ISO 9308-2:2012: Colilert-18 is the ISO 9308-2 standard for Water Quality - Enumeration of Escherichia coli and coliform bacteria - Part 2: Most probable number method.
Colilert-18, (ISO 9308-2) is a reference method in the European Drinking Water Directive 2015/1787
AFNOR NF Validation (IDX 33/01-11/09) - Colilert-18/Quanti-Tray is validated for the enumeration of β-glucuronidase positive Escherichia coli and β-galactosidase positive coliform bacteria in drinking waters for human consumption.
SCA Blue Book: Colilert-18 is specified in Microbiology of Drinking Water (MoDW) Part 4: Methods for the Isolation and enumeration of coliform bacteria and Escherichia coli (including E.coli O157 H7) (2016) - Colilert®-18 (Method D).
A more exhaustive list of approvals is available on request
Key Points:
Accurate
Identifies E. coli specifically, avoiding unnecessary remedial action caused by non-target organisms.
Suppresses up to 2 million heterotrophs per 100 mL.
Eliminates the subjective interpretation found with traditional methods.
Detects a single viable coliform or E. coli per sample.
Fast
Under 1-minute hands-on sample preparation time.
Detects coliforms and E. coli simultaneously in 18 hours or less.
No confirmations needed.
No glassware cleaning or colony counting.
Easy-to-use
Ease of use simplifies training.
Unit-dosed packaging eliminates media preparation.
No repeat testing due to clogged filters or heterotrophic interference.
Quality Control (QC) procedure can be done in 15 minutes.
Operational Value
Faster results mean that you can act sooner to prevent the spread of contamination.
Extremely low false positives rates reduce the incidence of false alarms giving greater confidence to operations, reduced uncertainty and unnecessary expense.
Economical
Minimises evening and weekend work.
Up to 15-month shelf life at room temperature.
Flexible
Can be used for presence/absence (P/A) or quantification testing with Quanti-Tray® and Quanti-Tray®/2000.
Areas:
Food & Beverage

Pharmaceutical

Water