ATP Bioluminescence Testing of Finished Products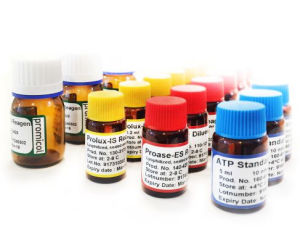 Principle: ATP Bioluminescence Testing
Automation: Different levels of automation are available
Approvals: 3rd party evaluation studies
Suitability: Sterility testing of finished Food, Beverage and Cosmetic products
Capital equipment required: Promicols Promilite Microtiterplate or Tube Luminometer
Description:
The Promicol system provides a rapid and reliable method for testing microbial ATP content in several different food and beverage products like, for example, dairy, infant food, fruit juices, beverages, soups, sauces, desserts, puddings as well as cosmetic and toiletries products.
The result of the method is given after a short pre-incubation time which is necessary to enrich the contaminating microorganisms in the product.
While producers still need to wait for the results of traditional microbiology the Promicol system already provides the results and a decision about product release can be taken. In this way costs as well as time-to-market are reduced significantly which enables the producer to keep and improve market position.
Key Points:
Rapid microbial control for finished products
No sample preparation
Easy in use
Automated data analysis
Suitable instruments depending on throughput
Customized solutions
Early detection of process failures
Faster release of finished products
Reduction of costs and warehousing