30th April 2019 Content supplied by: LabTwin GmbH
World's First Voice-powered Digital Laboratory Assistant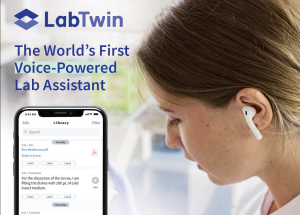 LabTwin GmbH, an independent company backed by Boston Consulting Group Digital Ventures and Sartorius have launched the world's first voice and AI-powered digital lab assistant. Scientists can take notes, capture data, create supply lists and set timers or reminders from anywhere in the lab just by talking to LabTwin.
LabTwin uses machine learning and voice-recognition technologies to streamline workflow in laboratories around the world. Researchers from top-tier research institutes such as UCSF and Deutsches Primatenzentrum GmbH, and top biopharma companies have been quick to adopt LabTwin's voice-powered assistant. 
"Digital assistants will free employees up to work on the things that matter most. New forms of interactions such as voice or image recognition, in conjunction with machine learning technology, will push businesses further than ever before," said Magdalena Paluch, LabTwin CEO, and co-founder. "LabTwin has the power to accelerate communication, unleash creativity and increase productivity by unshackling scientists from keyboards, desktops and hard-to-access folder structures. It's the digital twin always within reach."
"At Sartorius we see firsthand the problems scientists face in the lab. They have to interrupt experiments to take notes, search for information and check experimental conditions. LabTwin solves this gap by providing a voice-activated personal lab assistant that literally works alongside the scientist," said Joachim Kreuzburg, CEO of Sartorius.
LabTwin is a collaborative venture resulting from a shared interest in creating digital tools to empower scientists. To achieve this goal, LabTwin is open to exploring possible partnerships with other industry players and leading academic institutions.
Tags:
Date Published: 30th April 2019
Source article link: View