15th July 2019 Content supplied by: INNOVAPREP
Virus Concentration - Faster, Easier, Better
InnovaPrep products enable rapid concentration of viruses from larger liquid volumes than other methods allow thereby providing the highest concentration factors possible - faster, easier, better. No centrifugation required.
The Concentrating Pipette  is an automated microparticle concentrator for bacteria, parasites, molds, fungal spores and fragments, whole cells and viruses.
For virus concentration, single-use Concentrating Pipette Tips (CPTs) are available in two pore sizes; 0.05μm and an ultrafilter CPT.  Using either of these CPTs, the system will concentrate volumes of up to 500 mL to a user-selectable final sample volume as low as 150 µL at speeds up to 90 mL per minute depending on the CPT pore size and sample matrix. 
Once the concentration step is complete, the automated wet foam elution process is initiated by the press of a button, taking only seconds to deliver the concentrate in a clean buffer for up to a 1000X Concentration factor.
The Large Volume Concentration (LVC) Kit   is a single-use kit that allows rapid concentration of bacteria and viruses from liquid volumes of 100+ liters using existing head pressure or with the use of a basic pump. The kit works much like InnovaPrep's automated Concentrating Pipette using one-pass membrane filtration to concentrate and a rapid wet foam elution to recover microorganisms into a small final volume (~50 -85 mL) in seconds. The LVC Kit contains a filter cell, tubing with connectors and clamps, and an elution fluid canister.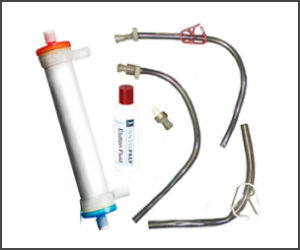 Users can combine the LVC Kit and Concentrating Pipette for 2 stages of concentration.
Download the White Paper: Virus concentration with the InnovaPrep Concentrating Pipette

Please note : Any products described on this page are for Research Use Only and not intended for clinical diagnostic procedures unless otherwise stated.
Tags:
Date Published: 15th July 2019
Source article link: View