7th March 2011 Content supplied by: Medical Wire & Equipment Co
∑-Transwabs® Multiple Body Site Screening for MRSA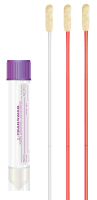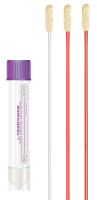 MWE's ∑-Transwabs® (Sigma-Transwabs®)are the ideal screening devices for MRSA. Available in single, dual, and triple swab formats, they offer fast and accurate sampling from single or multiple body sites, combined with liquid transport for automated and conventional processing.
Up to three specimens from one patient can be combined into one transport device for maximum sensitivity. The colour coded swab shafts can be assigned to particular body sites in accordance with local practice. All the swabs snap readily into the transport vial, and the white shafted swab is automatically "captured" by the screw cap.
MWE's liquid Amies medium is fully compatible with automated and conventional processing systems giving excellent Gram stains (with no need for methanol).
∑-Transwab® is M40-A compliant, and suitable for all routine microbiology specimens. All versions feature MWE's Sigma swabs with open cell flow through polyurethane foam bud for optimum absorption and release of microorganisms. In addition to the standard shaft (single, dual or triple formats), a flexible mini-tip version is available for nasopharyngeal and urethral sampling. Colour coded caps help users with swab selection, and also assist specimen management at the laboratory.
Please note : Any products described on this page are for Research Use Only and not intended for clinical diagnostic procedures unless otherwise stated.
Tags:
Date Published: 7th March 2011
Source article link: View
Related news