21st July 2016 Content supplied by: Thermo Scientific – Oxoid, Remel, VersaTREK and Sensititre Products
Thermo Scientific™ Oxoid™ Pre-Weigh Dehydrated Culture Media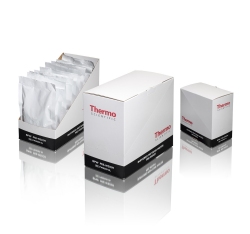 To help microbiology laboratories that are under growing pressure from higher test volumes and demands for faster time to results, a new dehydrated culture media format provides a convenient solution to media preparation.
The new Thermo Scientific Pre-Weigh Dehydrated Culture Media are supplied in 'rip and tip' pouches, available in both 1L and 8L sizes to fit microbiology laboratories' culture media batch sizes. A choice of media in the new format offers reduced hands-on time and increased accuracy to help maximize laboratory productivity. The convenient pouches contain the same high quality media as standard Thermo Scientific Dehydrated Culture Media packs.
"We are delighted to provide a new format that can help our customers improve efficiency in the lab," says Simon Walker, senior director, product management and marketing, microbiology, Thermo Fisher Scientific. "Our in-house trials have demonstrated that using the new pre-weigh format can deliver a saving of over two hours every week when preparing 45L of media each day."
Thermo Fisher Scientific offers a broad selection of high quality base culture media, supplements, special blends, including a wide range of animal-free formulations and ready-prepared plates and convenience formats. All Thermo Scientific culture media are tested for quality and performance before, during, and after manufacturing to make sure the finished product meets the needs of microbiology laboratories' finished product.
Find out more by visiting www.thermofisher.com/preweighDCMs
Tags:
Date Published: 21st July 2016
Source article link: View