11th January 2022 Content supplied by: INNOVAPREP
The New AirPrep™ Cub Sampler by InnovaPrep
InnovaPrep offers a new, even more, affordable compact commercial version of the Bobcat Air Sampler trusted by researchers and the US military since 2012.
Using the same 360° aerosol inlet design and rapid Filter & Elution Kit, the new AirPrep Cub Sampler is just as efficient as the Bobcat Air Sampler for the collection and recovery of microorganisms such as mould spores, bacteria, and viruses (including COVID-19 and influenza) from 0.01 microns to 10+microns.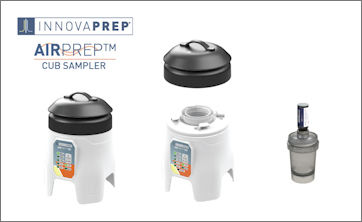 Air Sampling for Viruses
Air Samplers typically provide poor results outside the laboratory environment because air is a low biomass environment, yet low numbers of infectious pathogens are of extreme concern, especially in the human environment. To successfully collect viruses, such as coronavirus in low biomass environments, you need:
The ability to collect over a long period
High flowrate
High collection efficiency for a range of respirable particles including the smallest viruses
A small final sample volume of fluid for high concentration factors
Compatible with PCR and perfect for sequencing variants.
BENEFITS
Created for a wide range of indoor and outdoor biomonitoring applications and since it is so affordable, multiple units can be employed to get a full view of bioburden in any location.
Pairs with any molecular analysis method including PCR and next-generation sequencing (NGS).
Operational modes include a choice of 50, 100, or 200 LPM flow rate and four predefined sample collection times; 30 min, 1 hour, 2 hours, or continuous for long-term monitoring.
The AirPrep Cub ACD210 can be operated using an internal rechargeable battery for up to 8 hours or continuously using wall power.
Can be operated at very low and high temperatures - a limitation for most samplers.
Samples can be pooled and concentrated with the InnovaPrep CP Select™  for convenience and increased sensitivity
FAST AND EASY FILTER ELUTION
The Rapid Filter & Elution Kit allows you to recover your sample into a liquid instantly. Following aerosol collection, the filter is removed from the sampler, fitted with the elutor adapter, then snapped onto the sample cup. To extract the captured particles from the filter, the user simply presses a canister containing the elution foam into the adapter. The elution foam efficiently releases captured particles into 6 millilitres of liquid buffer. Within seconds, the foam collapses back to a liquid, and ready for sample processing and analysis.
Visit INNOVAPREP or click on the Request Information button below.
Please note : Any products described on this page are for Research Use Only and not intended for clinical diagnostic procedures unless otherwise stated.
Tags:
Date Published: 11th January 2022