13th June 2005 Content supplied by: Pro-Lab Diagnostics
Testing Times for Legionella - Rapid, Accurate and Specific Identification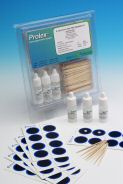 The Prolex L. pneumophila serogroup 1 latex agglutination kit, utilizes monoclonal antibody coated latex particles which offers the highest sensitivity and specificity for the identification of Legionella pneumophila serogroup 1, directly from primary culture.
Following its isolation on media containing cysteine, yeast extract, a-ketoglutarate, and iron (BCYE) or selective BCYE (or other medium-containing antibiotics), typical colonies are grey-white to blue-green growing after up to five days incubation at 37°C.
The rapid, accurate identification of L. pneumophila , in particular L. pneumophila serogroup 1, is extremely important. The most widely available techniques used for laboratory confirmation of legionella isolates are serological methods based on hyperimmune rabbit antisera containing antibodies directed against the somatic lipopolysaccharide or O antigen. However, many legionella species and serogroups have antigens in common and cross reactions can be seen when polyclonal antibodies are used for serological identification.
The Prolex L. pneumophila serogroup 1 latex agglutination kit consists of a buffered suspension of latex particles coated with the monoclonal antibody specifically directed against surface antigens on Legionella pneumophila serogroup 1, that will bind through its single reactive site to the sensitised latex. The mixture will cause a rapid agglutination that is clearly visible.
Presented in a convenient 20 test size kit with positive and negative control reagents, the Prolex L. pneumophila serogroup 1 latex agglutination kit is an essential tool for the rapid, accurate and specific identification of L. pneumophila serogroup 1. ( Ref PL226).
The first discovery of bacteria from the genus Legionella came at an American Legion convention in 1976 when an outbreak of pneumonia led to 29 deaths . The causative agent, that would come to be known as Legionella pneumophila, was isolated and given its own genus. Legionella pneumophila is a motile, rod-shaped, gram-negative, aerobic, bacterium. It is considered to be a facultative parasite, which in the last twenty years has been identified as the leading cause of Legionnaire's Disease. Of more than 40 species of Legionella, L. pneumophila is the major pathogen, and is the most commonly encountered member of the group in the clinical laboratory.
In addition to the Monoclonal Latex kit, Pro-Lab Diagnostics also manufactures a extensive range of kits and reagents in latex and direct fluorescent antibody format for the detection and identification of all serogroups of L. pneumophila and several non-pneumophila species. For full details of how the products can be suited to your own needs please contact the technical sales department.
Please note : Any products described on this page are for Research Use Only and not intended for clinical diagnostic procedures unless otherwise stated.
Tags:
Date Published: 13th June 2005
Source article link: View