18th September 2017 Content supplied by: ProGnosis Biotech Ltd
Symmetric M1 – Next Generation Lateral Flow for Aflatoxin M1 in Dairy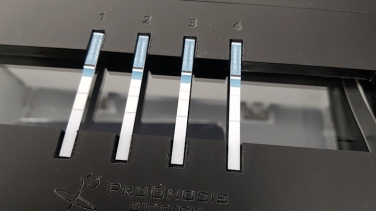 Contributed content by Dr. Sotirios Athanasiou, Head of R&D Department, ProGnosis Biotech.
During the past decade, lateral flow tests have increasingly come into routine use in dairy quality control schedules. Both for production, processing and laboratory applications.
The new Aflatoxin M1 lateral flow test from ProGnosis Biotech added to the range of kits available, uses the advantage of Symmetric Technology resulting into a test which is as sensitive and accurate as an ELISA, along with the option of full walkaway automation for processing, reading and recording results in high throughput situations.
It could be said that the 1881/2006 EC Regulation, which set the maximum levels for certain contaminants in foodstuffs, was the start of the increased use of lateral flow tests for detecting Aflatoxin in the dairy industry, but in reality, only a series of Aflatoxin M1 crises over the past 5 years has led to the need for better solutions and has changed the way the dairy industry approaches testing.
Dairies, by nature of business, produce large numbers of samples, especially during alerts, therefore chromatography, which is not ideal for high sample throughput, can never really substitute either lateral flow tests or ELISA.
Comparison Table of Techniques for Detection of Aflatoxin M1 in Dairy Products
| | | | | | | |
| --- | --- | --- | --- | --- | --- | --- |
| Technique | Product | Sensitivity | Time Consuming | Specificity | Lab Requirements | Cost per Test |
| Lateral Flow Sticks | Symetric M1 | 2 ppt | Fast (10 min.) | No cross reactivity with M2 | Basic Lab | €€ |
| | | | | | | |
| ELISA | Bio-Shield Aflatoxin M1 Baby Food (M1 BF) ELISA kit | 1.6 ppt | 75 min. | No cross reactivity with M2 | Basic Lab | €€ |
| | | | | | | |
| | Bio-Shield Aflatoxin M1 Extra-Sensitive (M1 ES) ELISA kit | 2 ppt | 30 min. | No cross reactivity with M2 | Basic Lab | €€ |
| | | | | | | |
| Chromatography | HPLC, LC/MS-MS | 5 ppt | Yes | No cross reactivity with M2 | High Tech Lab | €€€€€ |
However, until now, one of the most common problems found with traditional lateral flow kits is the frequency of invalid strips as well as the instability of result . After the first reading, results can change and may continue to change, making lateral-flow strips an unreliable method especially when compared to ELISA.
With ProGnosis' revolutionary, patent-pending Symmetric Technology approach to lateral-flow strips, the kits keep all the advantages, such as cost effectiveness, speed and ease of use, but now have the sensitivity, accuracy and automation potential similar to ELISA tests.
The first Symmetric Technology product is Symmetric M1 for the detection of Aflatoxin M1 in milk. With Symmetric M1 results can be read within 10 minutes after the test is finished, and if read later, even a few hours later, no substantial changes will have occurred.
The Symmetric M1 has ELISA-like sensitivity (LOD at 2ppt , LOQ at 8ppt) and accuracy (CV <8%) which is unprecedented performance for a lateral flow product. At the same time, reproducibility and stability, make the Symmetric M1 a unique, new-tech product, and not just another lateral flow stick.
Using the ProGnosis system, testing for Aflatoxin M1 takes only 10 minutes from sample receipt to result using a fully automated, place-and-forget instrument with the added benefit of complete result traceability.
Symmetric M1 is ideal for an ELISA-like screening of Aflatoxin M1 in any species of milk (cow, goat and sheep), guaranteeing a statistically accurate result due to the special ProGnosis software accompanying Symmetric M1, the S-Flow software. High-fat milk samples have previously always been "difficult" to analyze due to their specific features, especially in comparison to cow milk. This problem is now completely overcome with the ProGnosis test solution.
ProGnosis Symmetric M1 for Aflatoxin M1 in dairy samples is an easy, cost effective solution for low or high throughput laboratories, whatever type of milk is being tested.
Tags:
Date Published: 18th September 2017
Source article link: View