2nd February 2012 Content supplied by: Mast Group
Successful UK Launch of Mast Uri®System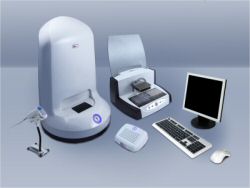 Since the UK launch of the
Mast Uri®System
in September 2011, Mast has had a fantastic response from users due to the benefits that the system has to offer. The Mast
Uri
®
System comprises a group of instrumentation to facilitate the rapid detection of urine pathogens, streamlining the process and significantly reducing 'hands on time'.
Urinary tract infections (UTIs) are one of the most common infectious diseases in healthcare settings, and account for up to 65% of the laboratory work load. Using laborious standard methods, it can take from 48 - 96 hours for a result to be generated leading to a delayed or erroneous identification, which is particularly concerning for complicated infections where rapid reporting of results is imperative.
The Mast Uri®System permits around 95% of all urines to be processed in 24 hours inclusive of an antibiotic susceptibility result and organism identification.
The Mast Uri®System encompasses the Mast Uri®Plus analyser, Mast Uri®Well dispensing aid, Mast Uri®Plates and Mast Uri®Dot inoculator with 96-well head and pins to deliver results in a fast and cost effective manner.
The application of EUCAST defined breakpoints and expert rules permit accurate bacterial identification and antibiotic susceptibility results assisting the reliable reporting of intrinsic resistances and exceptional phenotypes.
A validation trial completed by GSTS Pathology department, St Thomas Hospital, London, highlighted a considerable reduction in result turnaround time; follow up work and total processing time. Other major benefits included a potential to increase capacity by 3 x workload, cost savings of bio-hazardous waste disposal, and 'freed up' valuable fridge and incubator space due to the 96-well format of the Mast Uri®Plates.
To view a full version of the poster click here.
Mast is announcing the international launch of the Mast Uri®System at ECCMID from 31st March to 3rd April 2012 in London. Visitors to the Mast stand will have an opportunity to view the Simple, Efficient, Effective solution to urine microbiology.
For details on these or any other products within the Mast portfolio, please contact Mast on sales@mastgrp.com, complete this form or visit our website www.mastgrp.com .
Please note : Any products described on this page are for Research Use Only and not intended for clinical diagnostic procedures unless otherwise stated.
Tags:
Date Published: 2nd February 2012
Source article link: View
Related news