25th July 2016 Content supplied by: Copan Diagnostics, Inc.
Simplify Sampling with COPAN's Line of Swab Rinse Kits (SRK™)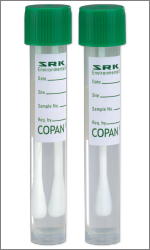 Stop by IAFP booth #218 for samples and more information about SRK™!
Salmonella. Listeria. E. coli. Shigella. No one in the food industry is rolling out the welcome mat for these bacteria. These pathogens and others, which can cause a variety of dangerous illnesses, are a health hazard in the food industry.
Preventing or detecting contamination by testing any surface that comes into contact with our food is essential. Swabbing difficult-to-access areas can be challenging. In addition, swabs need to be easily transported from collection site to the laboratory.
That's why we developed our fast and efficient SRK™ line.
Easy to Use
Swabs are pre-moistened with saline solution, improving uptake of sample.
Sampling uneven, irregular surfaces or equipment is easy with the SRK™ swab system.
Packaged in convenient transportable tubes with attachable lids.
Samples can be refrigerated in tubes up to 24 hours before laboratory analysis.
Wide Selection of Products
Buffered Peptone Water, Tryptic Soy Broth, Letheen Broth, Butterfield's Solution and COPAN's SRK™ Neutralizing Solution available.
Different fill volumes and various swab lengths to suit wide range of applications.
Templates
Help define the sample size and determine the number of organisms per cm².
Square templates available in 4 x 5cm or 10 x 10cm and packaged one or five per package.
Spreaders
T-shaped and L-Shaped spreaders are designed for spreading and dispersing liquids across the surface of agar culture plates.
Used to perform bacterial CFU plate counts on water, milk and other liquid samples.
Food safety simplified with SRK™.
For more information please visit www.copanusa.com/products/environmental/ or contact us at marketing@copanusa.net
Tags:
Date Published: 25th July 2016
Source article link: View