10th November 2015 Content supplied by: Neogen Europe Limited
Sample to E. coli O157:H7 Detection in 12 Hours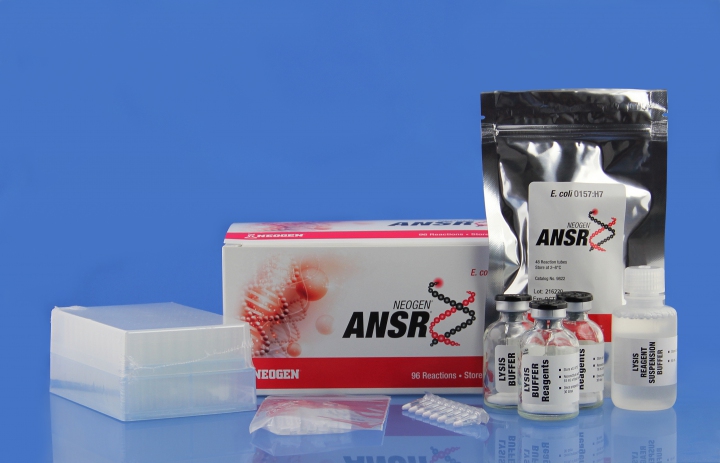 ANSR® for E. coli O157:H7 is the fourth test available for Neogen's innovative ANSR pathogen detection system, and will provide results after only 10 minutes of reaction time following sample preparation. The new test joins Neogen's line of ANSR products, which also includes AOAC Research Institute-validated ANSR tests for Salmonella, Listeria and Listeria monocytogenes; an approval for the E. coli O157:H7 test is pending.
"The well-received and validated ANSR system provides the food industry definitive test results, and much easier and quicker methodology," said Ed Bradley, Neogen's vice president of Food Safety. "This introduction of ANSR for E. coli O157:H7 extends our ANSR product offering for the bacterial pathogens of greatest concern to the food industry, and will be very easy for laboratories to adopt, as it follows the same procedure of all our other ANSR kits."
Combined with ANSR's single-step enrichment, Neogen's new pathogen detection method for E. coli O157:H7 can provide definitive results in as little as 12 hours from the time the sample is taken. The newest ANSR test's flexible procedure can also utilize the USDA-recommended media (modified TSB). To date, the test has been validated for testing raw ground beef, raw beef trim, leafy greens and sprout irrigation water.
Neogen's ANSR is an isothermal amplification reaction test method that exponentially amplifies the DNA of any bacteria present in samples to detectable levels in only minutes. The ANSR system was designed to combine molecular-level accuracy with a scalable low-cost instrument and a methodology that can be easily incorporated into any testing laboratory's existing workflow.
Date Published: 10th November 2015
Source article link: View
Related news