14th January 2021 Content supplied by: Lonza Pharma&Biotech - Bioscience Solutions
Reduce Errors and Increase Throughput with Automated Endotoxin Testing
Laboratories conducting bacterial endotoxin testing help guarantee the safety of parenteral medications, fluids, and implantable devices. This testing is an essential part of QC and is required for raw materials, in-process control, and final product release. Errors or inefficiencies in testing can create production backlogs delaying product release and increasing costs. Automating endotoxin testing can improve efficiencies by reducing human error and optimizing process throughput.
There are many types of endotoxin tests, but all require numerous pipetting steps and data entry to achieve sample mixing and correct dilutions. Any testing program requires readers, reagents, consumables, and software that must work together to reliably test for endotoxin throughout the manufacturing process. As the number and types of samples for testing increase, the stress, strain, errors, and limitations of manual processes become more significant.
The example shown below highlights estimated time-savings that can be achieved for a laboratory testing 20,000 water samples per annum by automating testing with the Lonza PyroTec™ PRO Automated Robotic Solution. Comparison is to the same testing scheme using a manual kinetic chromogenic plate-based method including interference controls (positive product control, PPC) with each sample.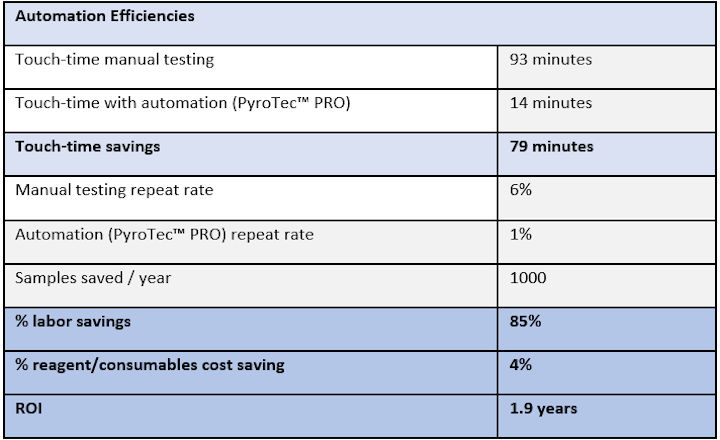 With the PyroTec™ PRO Automated Robotic Solution integrated with the WinKQCL™ Endotoxin Detection Software, QC departments can:
Improve efficiencies and reduce human error
Accurately process large volumes of samples
Provide auditable reports and ensure 21CFR Part 11 compliance
Improve reporting, trend analysis, and flagging of errors
Integrate with LIMS or CAPA systems to eliminate manual transcription of data
Ensure confidence in data used to safely release products to market
The increased simplicity and convenience offered by the PyroTec™ PRO Solution extends to system set-up, with the latest run-control software applications eliminating the need for complex and time-intensive robot programming steps. By making these efficient systems intuitive and easy to use, modern automation platforms and run-control applications are helping to deliver highly accurate results faster and more efficiently than ever before.
There are no longer technical reasons why laboratories should remain using manual testing processes that are time-consuming, inefficient, and error-prone. There is plenty of evidence to show that automation can help reduce errors and waste while improving quality, efficiency, compliance, and cost-effectiveness. Automation also liberates scientists from tedious manual processes to allow them to work on more valuable activities and helps to accelerate your time to market.
Tags:
Date Published: 14th January 2021
Source article link: View