8th July 2013 Content supplied by:
Real-Time Viable Particle Detection for Grade A Aseptic Processing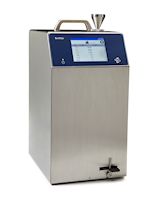 There is understandable excitement in the Pharmaceutical Industry regarding the many potential benefits of Real-Time Airborne Viable Particle Detection. Aseptic Processing is an area of great interest. There are many who see the potential of monitoring the airborne environment in real-time for viable particles in Grade A (ISO 5) clean zones. There even those who think it will replace the existing culture- based methods entirely and be an integral part of enabling real-time release. The reality is that these are longer term goals for this technology.
The path to implementing Real-Time Airborne Viable Particle Counting technology for Grade A Aseptic Processing applications is a long one. Data needs to be collected to establish a comparison between the existing culture-based method and the new fluorescence based detection method. Take a moment to consider how many colony forming units per m³ are seen at a typical Grade A critical environmental monitoring location. Is it one count every shift, every two weeks, one event per year? Either way the numbers of microbiological contamination events detected by the existing culture based methods are very low. Establishing a correlation between two different measurement techniques when counting 1s and 0s is time consuming. Many months of data will be needed before compliance based business decisions could be made with a real-time viable particle counter. And in Europe there is the risk that you may have to respond and act on the data collected by the viable particle counter during the comparability study.
The good news is that there are some immediate use applications for Real-Time Viable Particle Counters that can provide significant benefits. These applications are non-compliance, low business risk applications. Using the BioTrak detector for these applications will help build an understanding and importantly, confidence in the Laser Induced Fluorescence (LIF) measurement method.
One such application is operator training. Using the BioTrak Detector as an operator training tool has very little risk in terms of compliance. Optimization of operator gowning training is one example. This training oftentimes lasts for several days and it is not uncommon for an operator to fail the gowning test. The operator has to wait for many days for the settle plate and contact plate data to be analyzed by the lab to know whether the test is a pass or fail. If it is a fail then the operator will need to be retested, adding further delays before the operator can be permitted to enter the cleanroom unsupervised. Whilst the decision to allow an operator access to the critical manufacturing areas still rests with the culture based method, the TSI BioTrak detector will give an indication in real-time as to the likelihood of the operator passing or failing this test. There is then the opportunity to immediately repeat the gowning test. Demonstrating to the operator in real-time at which stage of the gowning process had potentially caused the gowning test to fail is a potential advantage.
In a single instrument the TSI BioTrak Real-time viable particle detector counts airborne particles compliant to ISO 21501-4 and has a 28.3lpm sample flow rate. It then analyses each particle for viability, finally it collects all optically analyzed particles on a collection filter to enable laboratory based speciation analysis. BioTrak - the real-time viable particle counter that delivers airborne viable particle count data you can trust, moving you towards real-time quality assurance and process control. Contact TSI today to arrange an evaluation and find out more about the many immediate use applications the BioTrak detector has to offer.
Tags:
Date Published: 8th July 2013
Related news