7th January 2008 Content supplied by: Pro-lab Diagnostics
Prolex Staph Xtra - Rapid ID of S.aureus including MRSA using CMMP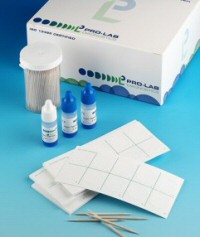 The Prolex Staph Xtra Latex Kit provides a rapid method to distinguish staphylococci (particularly Staphylococcus aureus) and methicillin-resistant S. aureus (MRSA) from other species of staphylococci in cultured specimens.
Although most Staphylococcus species are common inhabitants of the skin and mucous membranes, certain species have been found frequently as etiological agents of a variety of human and animal infections. Furthermore, infections caused by S. aureus are the most common human staphylococcal infections. Food poisoning and toxic shock syndrome also have been attributed to infection with S. aureus.
A growing percentage of S. aureus (mainly Methicillin resistant strains) can elude detection in some agglutination tests because cell wall antigens (clumping factor and protein A) are masked by capsular antigens.
The Prolex Staph Xtra Latex Kit utilizes Carboxylate Modified Microparticles (CM-MP) which have been sensitized with fibrinogen and IgG that are specific for capsular types 5 and 8 of Staphylococcus aureus.
When Staphylococcal colonies which possess at least one of clumping factor, protein A and / or capsular 5 or 8 antigens are mixed with the latex reagent, the latex particles agglutinate strongly within 20 seconds.
Product Features
As few as 2 colonies required from primary culture
Enhanced results with blue carboxylated microparticles (CM-MP)
Detects all Staphylococcus aureus including MRSA
Detects Coagulase, Protein A and Capsular Polysaccharide 5 and 8 Antigens
Definitive results obtained within 20 seconds
High performance with sensitivity of 100% and specificity of 100%
Contains negative control
100 Test kit
Includes new agglutination card design
Please note : Any products described on this page are for Research Use Only and not intended for clinical diagnostic procedures unless otherwise stated.
Tags:
Date Published: 7th January 2008
Source article link: View