6th March 2007 Content supplied by: Pro-Lab Diagnostics
Pro-Lab Introduces Specially Designed Agglutination Card to the Prolex Latex Kit Range.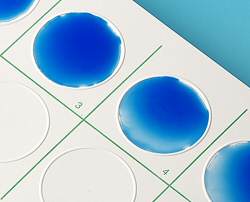 All Prolex™ Latex Agglutination Systems now include a specially designed agglutination card with a defined rimmed latex enclosure ring surrounding each circle.
This improved design prevents individual test reaction reagents becoming mixed, avoiding compromised results during rocking of the slide. (Patent Pending).
Date Published: 6th March 2007
Source article link: View