17th May 2018 Content supplied by: innovaprep
InnovaPrep's Concentrating Pipette Select™ for Spoilage Concentration in Minutes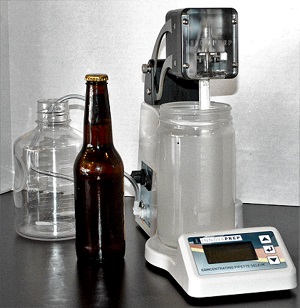 Now you can perform spoilage concentration in minutes with a simple button press using InnovaPrep's Concentrating Pipette Select. Improves sensitivity of any analytical method whether molecular or culture based.
Method:
Step 1: If the beverage is carbonated, pour the full sample into the Be Flat™ Degassing Jar. If not carbonated, skip to step 3
Step 2: Refrigerate for 10-20 minutes
Step 3: Run the sample through the Concentrating Pipette Select. Any spoilage organisms or particles in the sample will be concentrated and delivered with a button press in minutes and ready for analysis using your method of choice
Enables larger starting sample volumes than other methods, providing improved detection of trace contamination
Works for testing all points of production: water, ingredients, process samples, packaged product, as well as equipment and facility hygiene samples
Reduce labor, lost batches, and product hold-times
Release product to market with confidence
Sample to answer in a single shift!
Date Published: 17th May 2018