18th March 2014 Content supplied by: Mast Group
Optimising Urine Microbiology at Whitfield Street Laboratory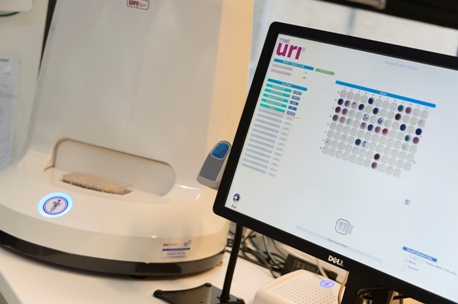 Whitfield Street Laboratory has adopted the Mast Uri® System for the direct culture, identification and sensitivity testing of urine pathogens. This joint laboratory formed between The Doctors Laboratory (TDL) the UK's largest private pathology provider and University College London Hospitals (UCLH), a large prestigious London Teaching Hospital report that the Mast Uri® System has had a significant impact on the workflow and service provided.
The laboratory recognised the need for a Leaner way to manage the workload more efficiently, maintain high quality results and reduce pressure on staff and storage. As the laboratory embraces new technology, an evaluation was carried out comparing the Mast Uri® System with the TDL standard method (whole chrome agar plate plus direct sensitivity testing where indicated) and UCLH standard method (whole chrome agar plate with identification and sensitivity testing performed on the Vitek 2 the following day) whilst operating a Kiestra system.  Good overall correlation was found between all methods and the Mast Uri® System was chosen to streamline the workflow. Major advantages included:
Improved quality  and consistency of results with the standard range of Mast Uri®Plates
68% reduction in 'hands on' staff time
>95% of samples reported within 24 hours
Increased available space in incubators and the cold room
Reduced pressure on the Vitek system
80% reduction in clinical waste
Significantly reduced costs
Implementation of the Mast Uri® System has proved to be a valuable adjunct and has given greater capacity to test samples on both the Mast Uri® System and Kiestra.  In today's environment WSL understand that there is no 'one size fits all' and continually seeks to optimise laboratory automation and maintain a competitive edge.
WSL evaluated the new Mast Uri® Locate, a fluorescent dye which was dispensed into the 96th well of the urine inoculum plate and all subsequent media, providing a secure audit trail guaranteeing correct orientation of plates throughout the process.  Inclusion of the Mast Uri® Plate GBS in the recommended plate set was found to be a 'valuable asset' for differentiating Group B Streptococcus, a major cause of neonatal sepsis, eliminating the need of a separate test for antenatal urine samples.
Staff at WSL found the Mast Uri® System easy to use and were delighted with the streamlined workflow. It also fitted well into a 24-hour working day and greatly reduced follow up work.  Click here to access the full article.
In response to customer demand Mast has recently launched the Mast Uri®Plate CRE which allows the screening of carbapenem resistant Enterobacteriaceae in urine samples. Given the increasing prevalence of resistant organisms there remains an urgent need for early detection of these isolates to avoid outbreaks situations. Mast is a specialist in diagnostic tests for the identification and confirmation of resistant organisms and this latest product consolidates the range. Confirmation of MBL and KPC enzyme production is simple with the mastdiscs™ Combi Carbapenemase Detection Set (D70C) and can be performed easily in any laboratory.
For details on these or any other products within the Mast portfolio, please contact Mast on sales@mastgrp.com.
Please note : Any products described on this page are for Research Use Only and not intended for clinical diagnostic procedures unless otherwise stated.
Tags:
Date Published: 18th March 2014
Source article link: View