19th October 2015 Content supplied by: Alpha Laboratories
New Versatile Biological Sample Mailing Packs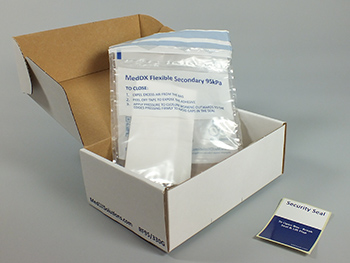 Do you need to post Biological Samples? Getting things safely through the post can be problematic, so packing and mailing of patient samples needs careful handling and adherence to regulations. The new Biological Sample Mailing Packs from Alpha Laboratories offer an easy, UN3373 compliant and flexible solution for transporting all types of laboratory sample containers by road transport and postage services.
Choose from a complete system or separately available Absorbent Sheets, Flexible Secondary 95kPa Pouches, Rigid Outer Containers and Security Labels all in a range of sizes to suit your needs.
Also available is the MedDXTainer 4 Medical Sample Carrier. Used for the collection of multiple samples this ABS plastic carrier can be stacked and locked.
In the modern medical environment a wide variety of patient samples in a range of containers require transportation from their point of collection to a testing laboratory for analysis. Category B blood, faeces, urine or sputum samples must be transported under WHO guidelines using P650 packaging instructions, to UN3373 standards. The new flexible biological sample mailing packs are now available from Alpha Laboratories. Please visit www.alphalabs.co.uk/mdx to download the brochure or contact Alpha Laboratories on +44 800 38 77 32 or email marketing@alphalabs.co.uk .
Date Published: 19th October 2015
Source article link: View