6th March 2007 Content supplied by: Pro-Lab Diagnostics
New Improved CM-MP Latex Technology from Pro-Lab Enhances Kit Performance.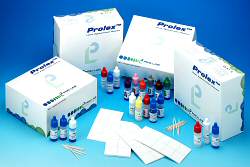 Prolex™ Latex Agglutination Systems manufactured by Pro-Lab Diagnostics currently presents a range of rapid latex agglutination systems for Streptococci, Staphylococci, E.coli and Legionella. All kits are presented in our unique user friendly modular packaging system with recyclable cardboard.
The manufacture of Prolex™ Latex Agglutination systems employs a unique process to enhance performance, clarity of results and speed of reaction offering advantages over traditional latex reactions.
Prolex™ Strep has of course always been presented as the unique instant room temperature method using Blue carboxylate-modified micro-particles (CM-MP).
This 'Blue' technology has now been extended to our Staph aureus, E.coli 0157/H7 and Legionella range of latex kits, offering faster, clearer and more specific results.
Principle of CM-MP Latex agglutination reagents used for detection of antigens or antibodies have traditionally been prepared by physical adsorption of biological molecules to the surface of plain polystyrene (PS) micro-particles [1]. Although perfectly acceptable, latex reagents created with this methodology, can have enhanced reagent stability and reactivity by covalent attachment of antigens and antibodies to functionalized micro-particles.
For example, Ortega-Vinuesa et al. [2] observed that covalent attachment of IgG resulted in improved immunodetection of C-reactive protein and storage characteristics relative to passive adsorption. The authors speculated this may have been due to more favourable orientation of the IgG on the surface of sensitized micro-particles. Numerous approaches have been developed for covalent attachment of biological molecules to micro-particles [1]; however, the most common employs carboxylate-modified micro-particles (CM-MP) and chemical cross-linking agents.
Prolex™ Latex Agglutination Systems are based on CM-MP and this represents a significant improvement over the traditional latex kits in terms of product performance characteristics, giving faster, clearer and more specific reactions.
All Prolex™ kits will also be presented in new improved packaging using recyclable material whilst maintaining the convenience of a modular easy to use presentation.
References: [1] Molina-Bolivar, J.A. and Galisteo-Gonzalez, F. (2005) Comprehensive Review - Latex Immunoagglutination Assays. Journal of Macromolecular Science, Part C: Polymer Reviews 45, 59-98. [2] Ortega-Vinuesa, J.L., Bastos-Gonzalez, D. and Hidalgo-Alvarez, R. (1996) Effect of Storage Time on the Immunoreactivity of IgG Physically Adsorbed or Chemically Bound to Latex Beads. J Colloid Interface Sci 184, 331-334.
Please note : Any products described on this page are for Research Use Only and not intended for clinical diagnostic procedures unless otherwise stated.
Tags:
Date Published: 6th March 2007
Source article link: View
Related news