4th February 2013 Content supplied by: Prioclave
New Hoist Increases Versatility of Priorclave Autoclave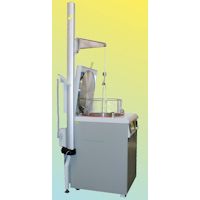 Designed as an option for use with Priorclave's versatile range of top-loading autoclaves is a new electric hoist called Loadlite. By adding this to vertical chamber steam sterilisers it makes light work of lowering/raising heavy awkward objects into the chamber, often eliminating the need to even consider buying more expensive, much larger rectangular chamber autoclaves.
The new Loadlite hoist, available as an option on Priorclave QCS V100 and V150 top loading autoclaves, uses a quick-release clip to easily and securely fix to the handle of a standard wire basket or the company can supply tailor-made collars for fixing to the neck of fermentors for direct loading and unloading.
The hoist comprises a vertical column housing a drive rack which directly controls the vertical movement of a 590mm long jib, enabling it to lower and raise directly into the sterilising chambers or swung sideways through a 1200mm arc to lower/pick-up from an adjacent platform such as a trolley, benchtop, etc.
Loadlite becomes an integral part of the Priorclaves and is equipped with a 'push-button' handlset on an umbilical cord for controlling the lowering and raising of its jib.
The two top-loading autoclave models for which Loadlite has been designed have 500mm diameter chambers with depths of 500 or 720mm, and loading height of 755mm and 935mm respectively.
The addition of the Loadlite options gives laboratories the advantage of operating more cost-efficiently, sterilising heavy awkward or tall items within the confines of the smaller footprint afforded by these smaller top-loading Priorclaves.
Contact Priorclave at
Priorclave Ltd 129/131 Nathan Way, West Thamesmead Business Park, Woolwich, London SE28 0AB Tel: +44 (0) 20 8316 6620 Fax: +44 (0) 20 8855 0616
Email: sales@priorclave.co.uk
web: www.priorclave.co.uk
Please note : Any products described on this page are for Research Use Only and not intended for clinical diagnostic procedures unless otherwise stated.
Tags:
Date Published: 4th February 2013
Source article link: View