17th June 2019 Content supplied by: Liofilchem s.r.l.
New Fosfomycin Agar Dilution Panel
With an increase in the numbers of bacterial isolates resistant to first-line antibiotics, there has been a revival in the use of older drugs including Fosfomycin. Although several commercial tests based on different techniques have been developed, Agar Dilution (AD) is considered the best method for performing Fosfomycin susceptibility testing so far.
The new AD Fosfomycin 0.25-256 is the first and only (international patent pending) ready-to-use commercially available kit for performing the agar dilution antimicrobial susceptibility testing, in compliance with the CLSI and EUCAST standards, with 3 months shelf life at present.
The AD Fosfomycin panel comprises 12 wells, containing the antibiotic incorporated into an agar medium in different concentrations, i.e. 11 two-fold dilutions (0.25-256 μg/mL).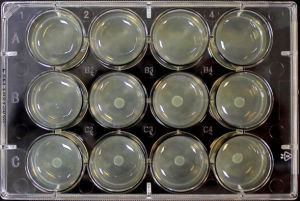 The AD Fosfomycin 0.25-256 panel is the first of a series of agar dilution panels, which will be available as both standard and custom versions, in terms of antibiotics and concentrations.
More technical details on the AD Fosfomycin 0.25-256 IFU
Please note : Any products described on this page are for Research Use Only and not intended for clinical diagnostic procedures unless otherwise stated.
Tags:
Date Published: 17th June 2019
Source article link: View