27th June 2016 Content supplied by: Döhler
NBB®-PCR Enrichment Broth for PCR Detection of Beer Spoilage Organisms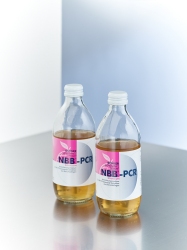 The ready-to-use NBB®-PCR Broth allows reliable, fast and universal enrichment for PCR or real-time PCR detection from all samples in the brewing process.
To document these advantages, an external validation study was conducted at the Research Center Weihenstephan for Brewing and Food Quality at the Technical University Munich. During this study, a series of four beer spoiling bacteria, including strong facultative gram-negative bacteria such as Pectinatus frisingensis and slow growing Pediococcus damnosus were tested. The study also included all commercially available PCR or real-time PCR detection kits in combination with NBB®-PCR Broth to demonstrate the universal range of applications. The publication of these results in a renowned journal will be available soon.
In addition, a field test study with eight national and international breweries was performed. The study was carried out using the breweries' own beer samples – yeast, pilsener and wheat beer – spiked with 100 cells/ml of their in-house Lactobacillus brevis strains. In all samples, NBB®-PCR Broth worked perfectly with the available real-time PCR detection kits after 48 hours enrichment.
The NBB®-PCR Broth provides:
A broad sample spectrum – PCR or real-time PCR detection in water, yeast, beer and air samples and hygiene monitoring in production
Reliable detection – optimised production process and comprehensive quality control
Fast enrichment – detection of even slowly growing bacteria in 48 to 72 hours
A universal medium – front-end for all PCR and real-time PCR systems available on the market
Would you like more detailed information on the NBB®-PCR Broth or on the validation results? Please visit www.doehler.com and discover our innovative products.
Tags:
Date Published: 27th June 2016
Source article link: View
Related news