18th November 2016 Content supplied by: Neogen Europe Limited
Neogen Develops Sensitive Solution to Detect Listeria spp., L. mono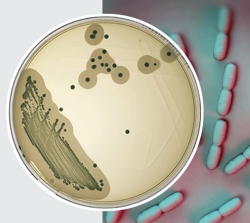 Neogen has developed a simplified, sensitive method to detect both Listeria spp. and Listeria monocytogenes utilising only one sample enrichment broth and one agar plate.
Neogen's new NF-certified One Broth One Plate workflow can be used to test all food and environmental samples, and provides results in as little as 48 hours — with enhanced sensitivity versus ISO 11290 methodology. The workflow has received NF validation/AFNOR certification (NEO: 35/06-07/16; NEO: 35/05-07/16).
"One Broth One Plate is ideal for those laboratories looking to reduce time to result whilst still maintaining classical microbiology," said Steve Chambers, Neogen Europe's sales and marketing director. "The development of the workflow is especially meaningful to us, as it combines our Acumedia enrichment broth with Lab M's chromogenic agar plates — a combination made possible by Neogen's August 2015 acquisition of Lab M. We see this as the first of many collaborations between Acumedia and Lab M."
The primary enrichment in the One Broth One Plate workflow is Acumedia's LESS Plus media, a highly selective enrichment broth for the detection of Listeria spp. Manufactured using the highest quality dehydrated culture media (DCM), LESS Plus medium is compliant to ISO 9001:2008.
The workflow's agar plate utilises Listeria Chromogenic Agar (LCA), which is a selective medium that is formulation compliant to ISO 11290-1:2014 according to Ottaviani and Agosti, and performance compliant to ISO 11133:2014. By utilising both chromogenic and phospholipase enzyme reactions, the media allows for easy identification and differentiation of both L. monocytogenes and Listeria spp. on one plate.
Neogen can supply the LCA media fully ready to use as part of Lab M's Pinnacle™ pre-poured media range, which includes all necessary supplements with no need to weigh, cool or autoclave media. Alternatively, the LCA media is available in DCM format, with additional supplements required, as part of Lab M's Harlequin™ chromogenic media range.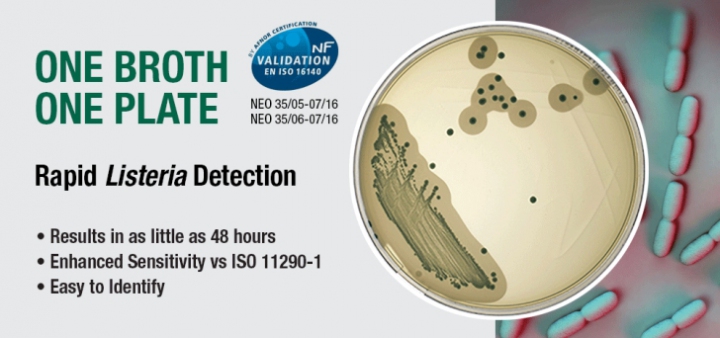 Tags:
Date Published: 18th November 2016