Large Composite Sample Homogenization with the MAXICATOR 3500ml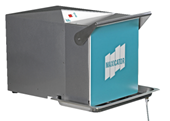 The Maxicator, a powerful homogenizer that can blend samples of up to 3500 ml, completes IUL's range of paddle blenders. Ideally suited for preparation of food samples for Salmonella and Listeria in large composite 375g and 125g samples.
Building on proven expertise and knowledge from the excellent performance of its 400 ml counterpart, the Maxicator is equipped with a unique paddling technology that enables maximum performance.
The unit delivers thorough and reliable homogenization of large volume samples in blender bags. Labs can furthermore benefit from its leak draining system that will allow for easy sample collection should leaks take place.
Large 3500 ml sample bags, especially designed for use with the Maxicator are also available from IUL.
The Maxicator range of lab paddle blenders includes the 3500ml, 400ml and 80ml, learn more at: iul-inst.com/en/sample-preparation/lab-paddle-blender
Tags:
Date Published: 15th December 2015
Source article link: IUL S.A.
Related news