6th October 2013 Content supplied by:
Lab M to Introduce IMS range extension at Lab Innovations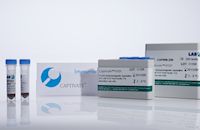 At Lab Innovations 2013 (6-7 Nov 2013, Birmingham UK), Lab M will discuss the further extension of its Captivate™ range of Immunomagnetic Separation products for the isolation of Shiga Toxin-Producing Escherichia coli (STEC) strains associated with foodborne infection. Captivate™ O45 is in the final stages of testing ahead of launch early in 2014 and will take the number of E. coli products in the Captivate™ range to eight. The range already covers most of the requirements in pending European regulation and, with the addition of Captivate™ O45, will fully meet the 'Big Six' testing requirements for meat products in the USA.
On Day One at Lab Innovations in the Campden BRI Theatre on the exhibition floor, Dr Chris Potter, Head of Research and Development at Lab M, will make a 15-minute presentation discussing 'A magnetic approach to Non-O157 verocytoxin producing E. coli (VTEC)/Shiga toxigenic E. coli (STEC)'.
Immunomagnetic separation is now written into US Department of Agriculture (USDA) methodology for the detection and isolation of non-O157 Shiga Toxin-Producing E. coli (STEC) in meat products and so there is renewed emphasis in the use of this highly effective technique. Lab M's expertise in immunomagnetic separation dates back many years and Captivate™ is one of the company's best selling product ranges around the world.
Lab M specialists will be available on the company's exhibition stand to discuss Captivate™ and its applications and also to demonstrate Lab M's new µPREP™ media format.
µPREP™ is a new line of bagged, ready to reconstitute microbiological culture media designed for maximum convenience and cost-efficiency in high-throughput testing laboratories. µPREP™ media require little storage space, offer quick, convenient and time-saving reconstitution with no need to autoclave and can be prepared with minimal training. The product is supplied sterile in boxes of 10 highly robust bags, each of which makes 20 litres of complete media. The first product available in this format is Buffered Peptone Water ISO (BPW). Formulated to ISO 6579, this medium is designed to support the recovery of sublethally damaged salmonellae prior to selective enrichment.
To view the new µPREP™ video visit http://bit.ly/LabMBPW
To find out more about all Lab M products go to www.labm.com or email info@labm.com
Date Published: 6th October 2013
Related news