11th June 2018 Content supplied by: astell
Integrated Hoist for Astell Vertical Autoclaves adds Loading Safety and Versatility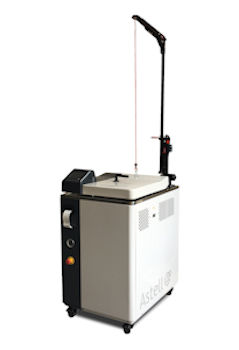 The electrically powered hoist can raise and lower loads of up to 40kg and provides a safe way to manage tall, heavy or bulky items, mitigating the potential for personal injury or accidental damage.
The hoist comprises of a 3-position boom arm which can be lowered and folded for storage, a durable electronic winch motor controlled by a tethered remote control box, and a quick release load fastening clip that will securely attach to the handle of a wire basket or Morrison container.
Astell's top loading autoclaves are available in 95, 120 and 135 litre capacities and can be specified with a combination of pre/post vacuum, heated jacket and integral steam generator making them suitable for sterilizing a wide variety of load types.
Allied to the lifting hoist, they are ideally suited to laboratories processing large volumes of media or fluid discard for example, where the addition of Load Sensed Process Timing, Fan Cooling and Air Ballast options would provide a significant benefit to process times and the number of cycles run per day.
For more information on choosing an autoclave or to learn more about the lifting hoist option please contact Astell Scientific or your distributor.
For more information visit www.astell.com
Please note : Any products described on this page are for Research Use Only and not intended for clinical diagnostic procedures unless otherwise stated.
Tags:
Date Published: 11th June 2018
Source article link: View
Related news