2nd October 2012 Content supplied by:
HybriScan®: Detection of Beer Spoiling Organisms by one Step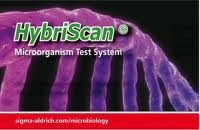 A new rapid method based on rRNA detection screens for all common possible beer spoiling organisms with common inexpensive equipment (microplate reader). One assay can be done within 2.5 hours and one detection plate contains up to 96 tests.
An easy, selective and rapid method for the identification and quantification of microorganisms. Easy sample preparation, no PCR and no expensive equipment is needed! Detects only living cells. The test principle is based on the sandwich hybridisation method.
The BENEFITS of HybriScan Kits relative to conventional methods:
Rapid, sensitive and reliable (without PCR)
Fast, saves up to 10 days compared to cultivation-based assays (test is finished within 2.5 h)
Discriminates between live and dead cells
High flexibility (group- or species-specific detection)
Detection of non-culturable organisms
Robust system not affected by the sample matrix
Quantitative results without cell counting
Uses standard laboratory equipment
Economical, high-throughput, 96-well microplate format
For more information and to see the product range, visit our web site www.sigma-aldrich.com/hybriscan.
Tags:
Date Published: 2nd October 2012