28th May 2018 Content supplied by: BIOTECON Diagnostics GmbH
High-Throughput Solution for Automated DNA/RNA Extraction and PCR Setup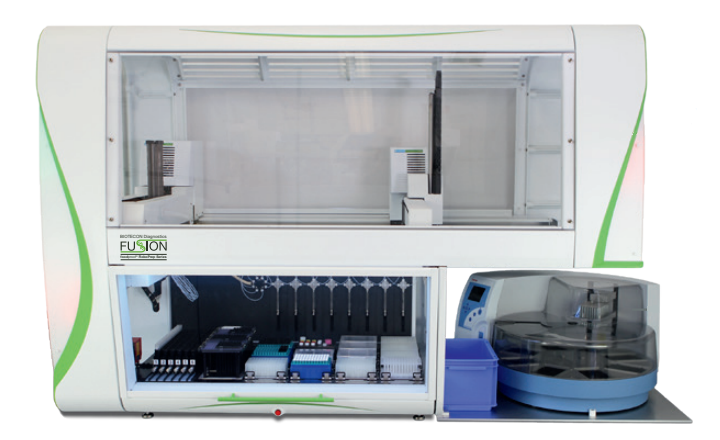 BIOTECON Diagnostics` foodproof RoboPrep Fusion® for molecular food and veterinary diagnostics is the perfect combination of a precise liquid handling robot with an attached and highly efficient DNA / RNA extraction system – the KingFisher™ Flex. The pipetting robot does the complete preparation of the sample material and the buffers required for the extraction. The separate gripper arm is capable to transfer the prepared microtiter plates to the KingFisher™ Flex for the DNA / RNA extraction process.
This open and modular system shows a high flexibility and robustness due to liquid displacement pumps. A variety of validated foodproof® magnetic preparation kits allows testing of a broad range of parameters. The kits contain magnetic beads to extract highly purified DNA or RNA for direct use in real-time PCR applications, such as the foodproof® detection and quantification kits. The purified nucleic acids are automatically moved back into the liquid handling system for subsequent PCR setup. Resulting PCR plates can be used directly in a real-time PCR cycler. All samples are tracked with an integrated barcode reader. The robot is supplied with extremely user-friendly software, which controls both instruments.
The following key characteristics are unique for the complete system:
an application guarantee (for specified parameters / protocols / support)
high speed (hands-on-time only 15 min per 96 samples)
robustness (no air-displacement pumps; two separate instruments, which can work also independently)
low consumption of tips and consumables (< 250 tips per 96 samples).
"Different bacterial pathogens, viruses, plant (allergen, GMO) and animal (ID) samples running on one certified and full automated scalable and robust instrument for DNA / RNA extraction and PCR setup as well as many other possible applications was always our goal", explains Alois Schneiderbauer, Chief Business Officer (CBO) of BIOTECON Diagnostics.
For more information about this all-in-one solution please visit: www.bc-diagnostics.com/products/instruments/automation/foodproof-roboprep-fusion
Tags:
Date Published: 28th May 2018
Source article link: View