10th June 2013 Content supplied by:
ELITech Launches New Generation of Slide-staining Instruments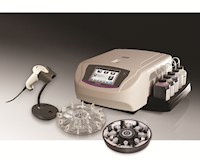 ELITech Biomedical Systems (ELITech Group) has vast experience and proven expertise in creating and producing practical and dependable slide stainers and cytocentrifuges that are used throughout the globe, providing elite technology for laboratories of every size.
ELITech is now launching a new "series 2" generation of Aerospray® slide stainers introducing innovative features and revitalizing the genre of stand-alone slide-staining systems with rapid results. Compared to the previous generation, this new range will be more oriented towards simplified ease-of-use, by offering new features such as a large touch screen, a barcode reader, and an intuitive user interface with language selection and help screens.
Another sector in which the Aerospray® series 2 aspires to establish a new standard is traceability. The series 2 memory stores critical information including: reagent data, specimen ID, user ID, and cycle operation history, all exportable via a USB port.
ELITech Biomedical Systems offers a complete range of double-purpose stainer/cytocentrifuge models for the Microbiology and Hematology laboratories. All of them will be successively updated in 2013, starting with the GRAM stainer recently launched in May.
Pierre Debiais, president of the ELITech Group stated, "ELITech is committed to meeting the evolving needs of clinicians and the microbiology lab with industry-leading, innovative solutions. We are very pleased to announce the launch of our newest Aerospray® series 2 stainers. This device offers significant advantages over current manual or automated methods and will be an important clinical tool in the field of pre-analytical microbiology. Moreover, system qualification, and traceability of stain procedures and materials are becoming increasingly important. Having the right stainer with features that meet today´s requirements is key to addressing current laboratory needs.
Our user-friendly Aerospray® stainers and Cytopro® cytocentrifuges are proven performers in the laboratory delivering high-quality results on demand. Our systems, consumables, and service have been trusted for decades, giving us an unparalleled knowledge base, unrivaled design expertise and extensive manufacturing capability."
Please note : Any products described on this page are for Research Use Only and not intended for clinical diagnostic procedures unless otherwise stated.
Tags:
Date Published: 10th June 2013
Related news