17th May 2017 Content supplied by: Döhler
DMD® Extends Culture Media Range for Microbial Detection in Beverages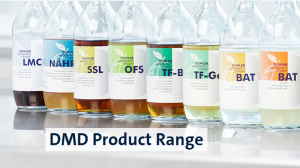 Under the DMD® brand, Döhler now provides a large variety of ready-to-use culture media for testing virtually all types of beverages. The quality of the media is tested in accordance with the ISO 11133:2014 standard and listed globally in regulatory standards.
They cover a broad microbial spectrum ranging from total viable counts (TVC), yeast & mould to E. coli/coliforms detection:
| | |
| --- | --- |
| Detection of: | DMD® product |
| Total Viable Counts | - Plate Count Agar, CASO Agar, CASO Broth |
| Yeasts & Moulds | - Sabouraud 4% Dextrose Agar, Potato Dextrose Agar, Yeast Extract Glucose Chloramphenicol Agar |
| E. coli/Coliforms | - Chromogenic Coliform Agar ISO, Violet Red Bile Lactose Agar |
Döhler now offers a comprehensive culture media portfolio for the detection of beverage-spoiling microorganisms. The detailed user manuals describe how to use the culture media in different applications.
The DMD® culture media are:
ready-to-use - direct use of the media without weighing, autoclaving or performing your own quality testing
ISO 11133:2014 compliant - no extensive quality testing necessary
listed globally in regulatory standards - reference media in worldwide standards like APHA, FDA-BAM, ISO 11133
Would you like more detailed information about the DMD® product portfolio? Please visit www.doehler.com and discover our innovative products.
Tags:
Date Published: 17th May 2017
Source article link: View
Related news