14th March 2005 Content supplied by: Pro-Lab Diagnostics
Development of an Internal QA Scheme Using Microbank Beads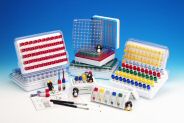 One definition of quality is meeting the pre-determined requirements of users of a product or service. An effective quality management system (QMS) determines the needs and expectations of users and determines the processes, responsibilities, and resources required to meet quality objectives.
In the laboratory, quality control (QC) procedures should be used in conjunction with external and internal quality assessment (QA), audit, and equipment monitoring as an integral part of the QMS. QC allows the day-to-day monitoring of assay, operator, and equipment performance. It should detect both random and systematic errors.
Criteria for QC material In general QC material should:
Be independent of kit controls
Be stable over a long period of time
Be of sufficient volume to monitor within and between kit and reagent batches
Give results within a clinically significant range (for bacteriological cultures, this means target organisms)
It is the availability of suitable QC material that presents a problem in developing a suitable internal QA scheme in clinical bacteriology. One scheme that has been established for QA in clinical bacteriology involves the original specimen being anonymised and then re-submitted for analysis (ref 1). However, problems associated with this type of QC material include:
Failure to meet at least two of the criteria listed above
Repeat inoculation of a swab onto a second set of plates may present a different picture (depending on the number of organisms originally present)
A high percentage of bacteriology samples are negative, and this does not challenge the ability to isolate 'target' organisms
Although this type of scheme assesses reproducibility, it does not detect systematic errors (because you don't know what you might be missing)
Simulated Specimens Using Microbank Beads An alternative scheme was evaluated by Pro-Lab over a six month period using simulated specimens preserved on Microbank beads. Seven simulated specimens were prepared as follows:
Using freshly isolated colonies, a suspension of the target organism was prepared equivalent to a 2 McFarland standard in a Microbank vial
To simulate a clinical specimen, colonies of typical mixed normal flora were then added to make the final suspension equivalent to a 5 McFarland standard (see Table 1)
Mix thoroughly, and decant all the beads and suspension into a petri dish
Using sterile forceps, place each bead into individual cryo-tubes
Label, and store at -80c
Table 1: Simulated Specimens
| | | |
| --- | --- | --- |
| Specimen Type | Target Organism(s) | Other Organisms Present |
| 1. Throat swab | Group A Streptococci | Mixed oral flora |
| 2. Throat swab | C.diphtheriae | Mixed oral flora |
| 3. Sputum | H.influenzae | Mixed oral flora |
| 4. Sputum | Strep pneumoniae | Mixed oral flora |
| 5. Wound swab (burn) | Staph aureus, Ps. aeruginosa | Coagulase negative Staph |
| 6. Faeces | Group D Salmonella | E.coli, Proteus mirabilis |
| 7. Faeces | E.coli O157 | E.coli (sorbitol positive) |
Day to Day use Each of the seven simulated specimens were processed once per week as follows: · Remove a vial from the -80c freezer and allow to warm to room temperature · Add 1ml of nutrient broth to the bead and mix · Inoculate a routine set of plates using a swab dipped into the broth · Enter the specimen details onto t he laboratory computer using agreed format
Results Over the six month period (June 2003 - Dec 2003) the target organism(s) was isolated and correctly identified from 100% of six out of the seven simulated specimens. On two occasions the H.influenzae was not isolated from specimen number three.
Discussion Once prepared these simulated samples are simple to set up, record, and score. They are also inexpensive. They realize all the criteria described above for QC material. Drawbacks include the fact that these are not real specimens, and that after 'pooling' some organisms may survive better than others at -80c. Also it could be argued that staff will soon get to know which organisms are present in these samples. However, this argument could be also applied to most QC material used in Haematology and Clinical Chemistry and is not relevant unless a 'blame culture' exists in the organization.
Further study is now needed using some fastidious organisms such as N.gonorrhoeae, Campylobacter sp, and anaerobic organisms. But used properly a successful internal QA scheme will increase confidence in results, and in conjunction with external QA and audit, it will identify problems and measure effectiveness of solutions.
Reference: 1. Constantine CE, Amphlet M, Farrington M, et al. Development of an internal quality assessment scheme in a clinical bacteriology laboratory. J Clin Pathol 1993; 46: 1046-1050
Please note : Any products described on this page are for Research Use Only and not intended for clinical diagnostic procedures unless otherwise stated.
Date Published: 14th March 2005
Source article link: View